SD Series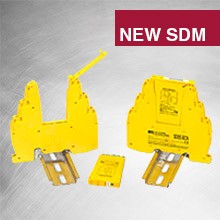 The SD Series is a range of surge protection devices combining unparalleled packing densities, application versatility, proven reliable hybrid circuitry, simple installation and optional 'loop disconnect' facilities – features which make the series the ultimate surge protection solution for process equipment, I/O systems and communications networks. The exceptionally high packing densities are the consequence of an ultra slim 'footprint' for individual modules which can thus 'double-up' as feedback terminals. Each module provides full hybrid surge protection for 2 and 3 wire loop protection.
***SDM - NEW MODULAR DEVICE***
The SD Modular (SDM) combines the tried and tested protection of the well established SD series and adds modularity for ease of maintenance. The user can change the surge protection module without any interference with wiring. The SDM is backwards compatible with the SD series which means users can upgrade to the SDM when next carrying out maintenance upgrades. Available in all of the voltages, 7,16,32 & 55 with a current capacity of 700mA, the SDM represents a step forward in surge protection designed for process control applications.